Gigs
We are happy to play Soliparty for LET'S GET UNITED
against racism, war and gentrification!
Friday 29.11.19
KvU, Storkower 119, open doors 7 pm
Food for all, live on stage also T.T. Geigenschrey, Goldzilla and …well, come and see!
ON FACEBOOK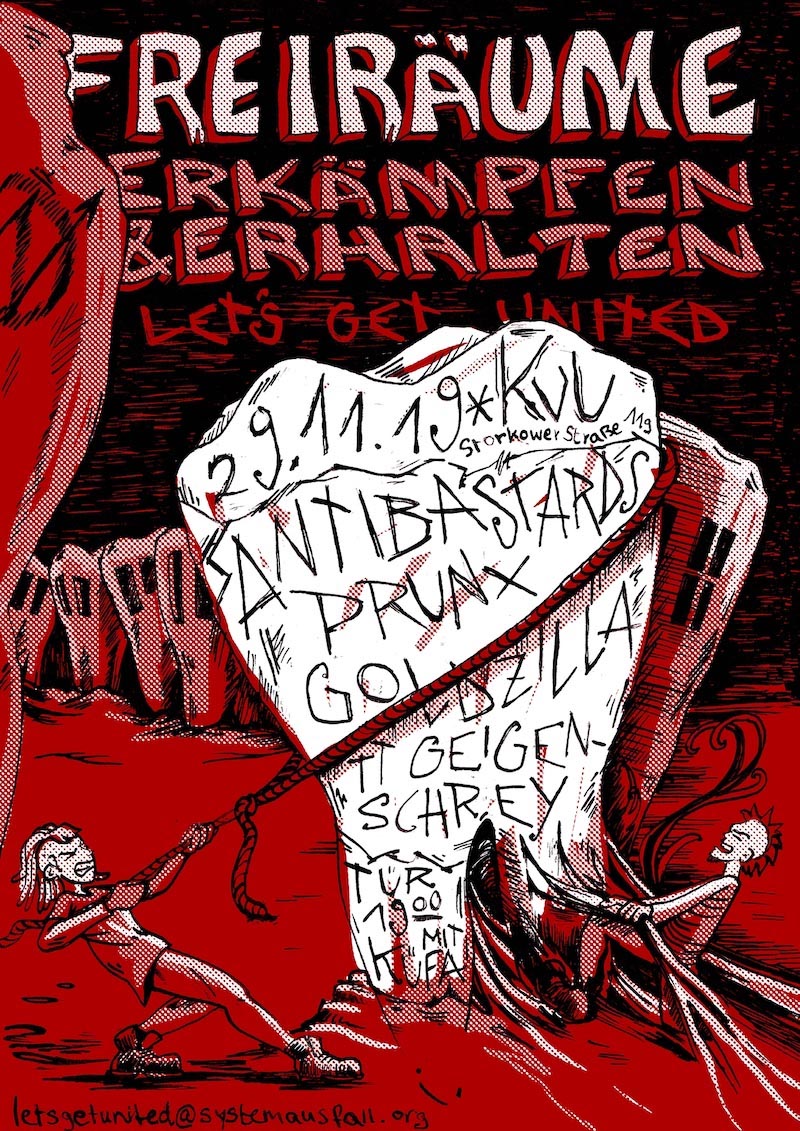 küstenkult with PrunX Apr 2nd from 3 p.m.
PrunX are warming up and training the new crew, coming Sunday April 2nd, from 3 p.m. at Café KULT, RAW Stoff&Gerätelager.
free entrance donations welcome!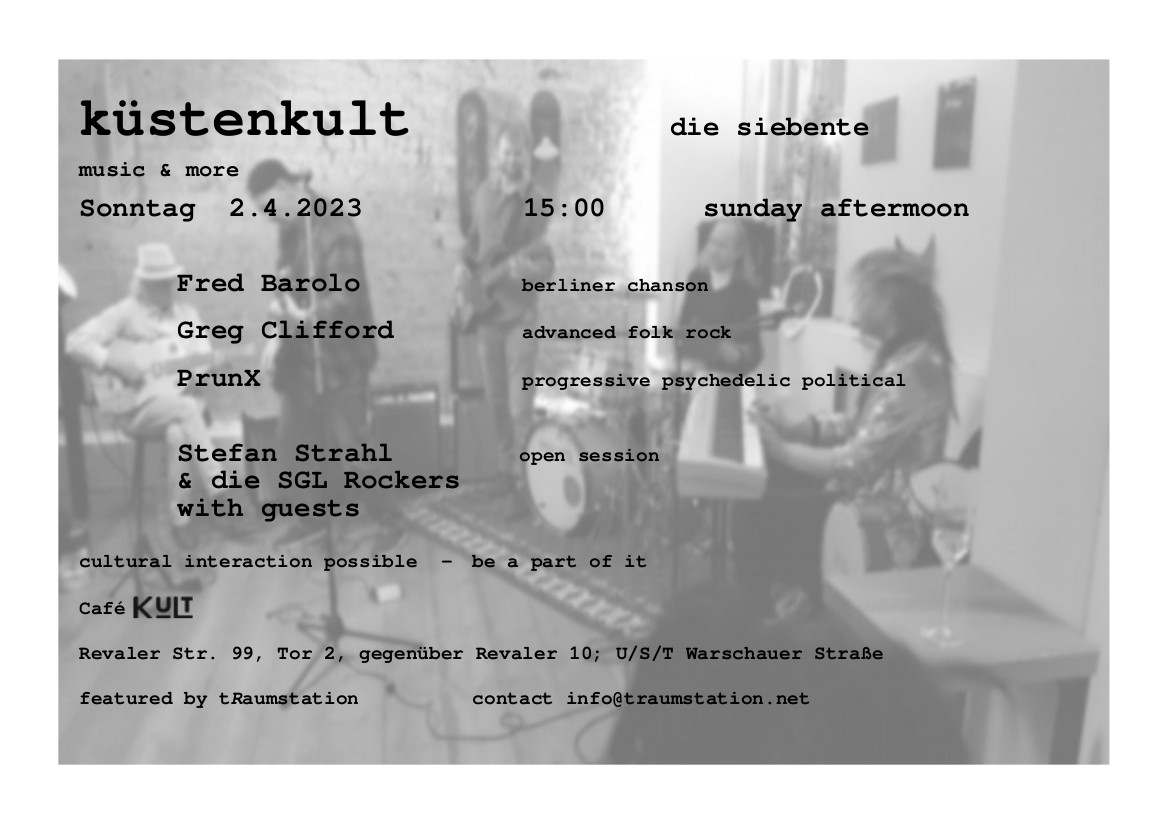 Past concerts
Once a
time
upon
there
in
with
2019
09-21
Mue(h)levoll Festival
Kuckucksmühle
Heiligengrabe
Neil Dilworth
06-10
Carnival of Cultures
Shanti Town
Berlin
many others...
2018
10-26
Steampunk Night
Schicksaal Tommyhaus
Berlin
Feline & Strange
Dirty Feetz
03-24
Geburtstagsparty
Sama32
Berlin
03-17
Backdoorparty
ORWOhaus
Berlin
Kombo Lombo, Way2Far, VOX-IRA
2017
12-01
Breadless Art Award
Kulturfabrik Moabit
Berlin
Olaf Bahn
11-09
Release Concert
Urban Spree
Berlin
Paul Geigerzähler Dirty Feetz
09-30
RAW Geburtstagsgala
Crack Bellmer
Berlin
07-09
Muriquee Launchparty
Urban Spree
Berlin
05-01
Wohnzimmerkonzert
Wohnzimmer
Berlin
06-02
KvU unplugged
KvU
Berlin
03-18
PrunX & guests
Lovelite
Berlin
Cannonball Statman, N.Y.
03-15
Live im Unterrock
UnterRock
Berlin
2016
12-17
Traktor nach Mali
Sama32
Berlin
Dirty Feetz
10-30
Klang Oase
RAW Kultur L
Berlin
10-29
Storytella 15
Zebrano Theater
Berlin
at a reading
10-01
Traktor nach Mali
Fischladen
Berlin
Dirty Feetz
07-12
PrunX & Brooklyn guests
Loophole
Berlin
Cannonball Statman
The Grasping Straws
N.Y.
07-09
PrunX & Brooklyn guests
Arcanoa
Berlin
Cannonball Statman
The Grasping Straws
N.Y.
05-07
Die Singenden Wohnzimmer
Wohnzimmer
Berlin
05-06
Gefahrengebiet rocks!
Sama32
Berlin
Dirty Feetz
The Feminists
2015
09-18
Akustisch im Kiez
O! Zosch
Berlin
09-10
Minibar
Villa Kuriosum
Berlin
06-21
Fete de la Indieschoenheit
Mauerblümchen
Berlin
09-06
Zeitgeist Media Festival
JH Königstadt
Berlin
04-09
Session Opener
Hard Rock 2 Cafe
Berlin
03-27
Geburtstagsparty
Sama32
Berlin
Nutzlos
MC/WB
03-05
PrunX in der Villa
Villa Kuriosum
Berlin
01-08
Session Opener
Hard Rock 2 Cafe
Berlin
2014
10-10
15 Jahre RAW-tempel
RAW Club
Berlin
The Legendary Lost Mojados
09-27
Wolle's Geburtstag
RAW Club
Berlin
08-30
Freiheit Statt Angst-Demo
Brandenburger Tor
Berlin
2013
12-15
Theatro y concerto
Kanzleramt Lohmühle
Berlin
05-18
Carnival of Subcultures
Køpi
Berlin
04-04
Soliparty BWH
küste
RAW-tempel
Berlin
2012
12-21
Apocalypse – so what?
küste
RAW-tempel
Berlin
Neil Dilworth11-23
Rock Cafe
HdJ Köpenick
Berlin
Canola
08-31
Sommerfest
Lohmühle
Berlin
08-25
PrunX live
Alte Wäscherei
Berlin
antierengetestet
06-21
Fete de la Musique
RAW-tempel Bühne
Berlin
06-09
Sommerfest
RAW-tempel
Berlin
05-10
PrunX Special
küste
RAW-tempel
Berlin
03-10
Sprungbrett
Werk 9
Berlin
01-26
Songs & Stories
Theater Majak
Berlin
2011
12-10
Platte komm raus Party
Theaterkapelle
Berlin
08-20
Suppe & Mucke
BetonBruchBühne
Berlin
08-06
Zwischenraum Festival
Berlin
06-21
Fete de la Musique
RAW-tempel Bühne
Berlin
2009
10-21
Resistente Altbauten
KATO
Berlin
10-03
BBU IV Viertelfinale
Alte Feuerwache
Berlin
06-21
Fete de la Musique
RAW Murkelbühne
Berlin
06-06
Rap meets Rock
Halle 20
Berlin
Diamantenprinzessin
05-19
PrunX & guests
Rockinstitut
Berlin
Puts Marie
05-16
PrunX & guests
Ex'n'Pop
Berlin
Puts Marie
05-09
Jubiläumsparty
Theaterkapelle
Berlin
05-01
Maifest
Kulturscheune
Useriner Mühle
04-24
BBU IV
Alte Feuerwache
Berlin
04-04
Soli für Teeladen
Abstand
Berlin
03-30
Kulturkantine
RAW-tempel
Berlin
02-27
Abgang
Maxim
Berlin
2008
11-23
Blameshifter Release
RAW Club
Berlin
Lucibel Crater N.Y.
08-08
Rock mit Willy
Zimt & Zunder
Berlin
Willy WDirty Feetzombat
06-27
BBU IV Vorrunde
Alte Feuerwache
Berlin
04-25
IDOM Dooload Launch
Oberbaumbrücke
Berlin
03-23
Easter'n'Birthday Music Clash
RAW Club
Berlin
2007
11-23
Freiräume Soliparty
Køpi
Berlin
10-06
PrunX im Ausland
Ausland
Berlin
10-02
Prepare to launch
RAW Stenzerhalle
Berlin
07-28
Teabax Festival
Klein Wall
Grünheide
Mahatok
Alice Daisy
07-13
Sommerfestival
Wuhle
Berlin
05-03
Take Off
KATO
Berlin
Alice Daisy,